The American Volleyball Coaches Association (AVCA) is proud of its 35-year commitment to the volleyball coaching community.  The AVCA is dedicated to placing coaches at the epicenter of leadership, advocacy, and professional development.  The AVCA Diversity Awards program is another tangible example of the value placed on assisting aspiring coaches, advancing the coaching profession for the next generation of coaches, and promoting inclusiveness within the sport of volleyball.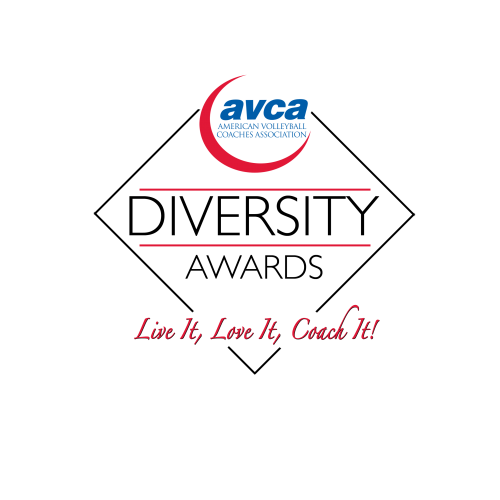 The Diversity Awards program is the next phase in the evolution of the organization's diversity initiatives and minority coach development programming.  Since 2002, the AVCA has been intentional with targeted programming designed to assist ethnic minority coaches in gaining access to the coaching profession and advance in their coaching careers.
The program through an online application or nomination (sponsor) process looks to identify 10-12 volleyball coach recipients who will be awarded complimentary full registration to the AVCA Convention and 5 nights of lodging at the AVCA Convention headquarters hotel.  Female and male ethnic minority club, high school, and collegiate (indoor and beach) volleyball coaches are eligible to apply. Preference will be given to first-time AVCA Convention attendees. At the conclusion of the application and nomination process the Diversity Development Team will oversee the review of the submissions and the selection of up to 12 award winners.  The recipients will have an agenda of coaching education programming, mentoring, and networking functions specifically targeted to them during their time at the convention.  These sessions will be facilitated by veteran volleyball coaches and industry leaders.  The objective of these sessions being to provide relevant and timely information and best practices to empower and assist in the recipients' development as on-court tacticians and off-the-court managers and mentors.
Two overarching objectives of this program are to integrate each of the selected recipients and residually impact this same target audience with sustained engagement in the larger volleyball community that includes demonstrated involvement with their national coaches association, the AVCA and ultimately impact the sport by being teachers and champions of the game. Secondly, it is important that as a result of this program the sport see tangible and quantitative evidence of the increase in opportunities for ethnic minorities at all levels of the sport (notably "A5" and NCAA D-I women's volleyball programs) to experience successful and enjoyable coaching careers.
2016 Diversity Award Recipients
"On behalf of the 2017 Diversity Team we are thrilled with this year's class of award recipients," said AVCA Diversity Development Team Chair and Butler University Head Coach Sharon Clark. "We had one of the largest and deepest pools of talented candidates this year. The selection process was daunting, but we have selected 10 fantastic coaches that we are excited to meet in Columbus!"
Ralph Alvarez is a club coach at Asics Munciana Volleyball Club. What started as an interest in coaching his children's teams in softball and baseball, soon turned into a passion of teaching and playing volleyball. He learned from AVCA Hall of Famer Dr. Don Shondell, and for five years worked hand-in-hand with him learning how to teach the game. "My coaching 'style' is very much my own and reflects what I remind my players on a daily basis and that is this: 'I love the uniqueness of the individual,'" he said.
Renwick "Ren" Cefra is an assistant coach at Temple University. His last ten years of coaching have been diverse, with stops at the NCAA Division I and II levels in addition to club and prep programs. The Honolulu native helped guide the Owls in his first year to a 24-8 record a season ago with a second-place finish in the American Athletic Conference. Cefra credits volleyball with helping shape his life: "I am able to have a full time job in which I coach the sport that I love, and that has given me so much in life.  Without the sport of volleyball in my life I believe I would not be the confident, hard-working, and driven adult I am today."
Lindsey Hawkins is the head coach at St. Charles North High School. Since the age of 12, volleyball has been a central part of Hawkins' life. While playing at Augustana College, she decided she wanted to enter the coaching ranks, and ended up earning her Masters in Teaching. She is first and foremost an educator, and combined with her passion for volleyball makes her the kind of coach her players won't soon forget. In fact, one her player's parents wrote this in the nomination form: "My daughter is not a star player on the team. In fact, she has spent a lot of time on the bench, but Coach Hawkins makes a point to value all of her players.  She regularly talks to them and writes them notes to recognize each of their unique qualities and contributions."
Alonso Ibarra is an assistant coach at the New Mexico Military Institute. He has spent time coaching club (El Paso Wildfire) and at the NCAA Division I level (UTEP) before landing his current job at the Broncos. His prior experiences coaching with now Ole Miss Assistant Volleyball Coach Angela Mooney has inspired Ibarra to be a great role model and strive to coach at the highest level. "I coach because I want to influence athletes around me in a positive manner. I want them to learn healthy, successful habits for life," he said.
Laura Iwuchukwu is an assistant coach at St. Gregory's University. She began playing at the age of 14, which was a challenge since many of her teammates began playing much sooner. She continued to work hard to hone her craft, getting a job to help pay for her club 17s and 18s seasons. Her hard work paid off with a college scholarship to West Texas A&M where she starred as an AVCA All-American. She believes her path to coaching will ultimately help her players: "As a coach, my early experiences and hardships helped me relate to the diverse needs of my athletes on a personal level… My background in volleyball being one that was self-taught has shown me the value of teaching athletes to "coach" themselves and to give athletes the fundamental skills to be successful in the game."
Nikki Naccarato is an assistant coach for both the men's and women's team at Regis College (MA). The South Florida native grew up in an indoor and beach volleyball heavy area, and to this day volleyball has remained her focus. She went on to play at NCAA Division II's American International College before graduating and taking her current position at Regis. Her time playing and coaching has only furthered her love of volleyball: "While my playing experience inspired me to be a coach, my experience as a coach has further solidified my confidence in pursuing a career in collegiate athletics."
Edward Pennington is an assistant coach at the University of Illinois-Springfield. In his first year with the Prairie Stars, he's responsible for recruiting and ensuring the team defense is the best it can be. Playing since 2009 and collegiately at Belmont Abbey College, he was also coaching high school and club on the boys and girls side before landing his current position. "My coaching style is to lead by example, and being a servant-leader. When leading by example, I am exemplifying that everything my athletes are doing physically and mentally are an extension of myself," said Pennington.
Alvaro Sanchez is an assistant coach at Bethune Cookman University. His love for volleyball started with his ninth grade geometry teacher, who also was a right side on the Jamaican National Team. Sanchez went on to coach at his high school alma mater for nine seasons, and has worked his way to the NCAA Division I level. He explains his coaching philosophy: "Treat them like adults. Guide the athletes but don't baby them. Sometimes the best way to learn is falling on one's own face. Young people have to learn how to fail sometimes in order to be successful."
Tanequa Whitman is a coach at NASA Volleyball Club and an assistant coach at the University of Alabama at Huntsville. She actually began her volleyball life playing at NASA as a 12 and under player, and has stayed with them as she continued to advance through the ranks. "Tanequa is a calm but aggressive coach. She works her players hard and expects the best from each one of them. Tanequa is the type of coach that will get in the gym with any player wanting extra reps," it said on her nomination form.
Jonathan Wong is an assistant coach at Bradley University. He was a four-year letter-winner at Lindenwood before going on to have a busy coaching career spanning club, high school, college, and even USA Volleyball's Collegiate National Team. Wong uses his laid back yet determined personality to keep everything as simple and efficient as possible. "I am a strong believer that if the mind is free, relaxed, and keeping all skills simple and efficient, then it will be repeatable on a consistent basis. I encompass my training techniques around this belief," he said.