Meet Up & Eat Up – Small Group Discussion & Dining
As part of Columbus Dine-Around night, Meet Up & Eat Ups provide an opportunity to share ideas and discuss industry topics with other coaches over dinner. Coaches can sign-up for a specific topic and then the group goes out for dinner together at a pre-determined restaurant to discuss. This is a great way to learn while networking and meeting new people.
Restaurant reservations can made in advance or local staff will be available onsite in the convention center to assist with recommendations and reservations if desired. Several restaurants around the convention center have offered discounts and specials for AVCA attendees. Please click here to see a list of participating restaurants!
Meet Up & Eat Up groups will get together at 7:30 p.m. on Friday, December 17. Groups are welcome to change their meeting time if everyone signed up is agreeable.
Meet Up & Eat Up discussion & dining topics will include: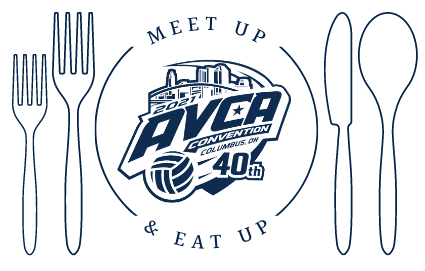 Athlete's Mental Health
Discussing Race Relations with Your Team 
First Time Attendees
Coaching the Men's and Women's Team
Coaching while Being a Parent
Fundraising for Your Program
Scheduling to Improve Your RPI
Starting a College Beach Program
Retaining Players on your Club Team
How to Educate Parents on Finding the Appropriate Club Program for their Child
SIGN UPS WILL OPEN IN NOVEMBER!
If you would like to host a Meet Up and Eat Up featuring a different topic please fill out this form.