Learning Labs
Learning Labs are small group education sessions led by some of the top coaches in volleyball that allow participants to ask directed questions and dig deeper into a specific topic. Learning Labs are designed to be informal discussions between the topic expert and attendees to share insights, find solutions to problems, and talk shop.
Match Point Mentoring Huddles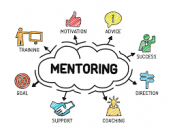 Huddle up! Match Point Mentoring Huddles provide the opportunity for veteran coaches and less experienced coaches to meet in small groups and share ideas for personal and professional growth. Each one-hour Huddle will offer mentees the chance to visit with three different veteran coaches for 20-minutes each to gain insight and learn about the sport from multiple perspectives.
Sign-ups for Learning Labs & Mentoring Huddles will be on a first-come, first-served basis beginning on November 10th. Those registered for the convention by the early-bird deadline of November 5th will receive an e-mail with a sign-up link for these sessions.  Please note AVCA can take a maximum of (30) coaches per Learning Lab & Mentoring Huddle.
Virtual convention attendees may participate in any of the Learning Labs included on the virtual convention schedule. No sign-up is required for these sessions.    Coaches must sign-up in advance (virtual attendees excluded) in order to keep the Learning Labs and Mentoring Huddles to a limited capacity and maintain the small group format. Please contact Allison Ivetic at allison.ivetic@avca.org for more information.
The sign-up link for Learnings Labs and Mentoring Huddles will be posted here in early December if session openings remain after the link is sent out to those registered by November 5.  
Please see the schedule below for Learning Lab & Mentoring Huddle sessions during the convention:
Thursday, Dec. 16
• Learning Lab: Serving Mechanics & Mindset – Jamie Morrison (League One Volleyball)
11 a.m. – Noon
• Mentoring Huddle: Kelli Phillips (Ball State), Jim Giacomazzi (Wayland Baptist) & Danijela Tomic (Bowling Green)
11 a.m. – Noon
• Learning Lab: What I Learned about Serving in the Olympics and How We're Translating that to the College Gym – Jeff Liu (USAV Women)
3 – 4 p.m.
• Mentoring Huddle: Paco Labrador (Navy), Chad Willis (Georgia Southern) & Moira Long (Springfield College)
3 – 4 p.m.
• Learning Lab: An Analysis of Advanced Offensive and Defensive Systems and Skill Development – Jim Stone  (Jim Stone Consulting & former head women's coach – Ohio St.) 
4:15 – 5:15 p.m.
• Mentoring Huddle: Jason Williams (Baylor), Jason Kennedy (Boston College) & Dan Friend (Lewis – Men's) 
4:15 – 5:15 p.m.
Friday, Dec. 17
• Learning Lab: Preparing to Prepare for Tokyo – How we Utilized Data to Inform our Training Priorities Before the Olympics – Nate Ngo (USAV Men)
1:15 – 2:15 p.m.
• Mentoring Huddle: Jeannette Waldo (Tennessee Tech), Cora Thompson (Tufts) & Dega Da Gama (Southern New Hampshire)
1:15 – 2:15 p.m.
• Learning Lab: Good Execution – Knowledge, Skills & Sound Decisions – Jim McLaughlin (AVCA Hall of Fame & Former Washington Head Women's Coach)
2:30 – 3:30 p.m.
• Mentoring Huddle: Ryan Theis (Marquette), Tia Brandel-Wilhelm (Ferris State) & Marie Zidek (DePaul)
2:30 – 3:30 p.m.
• Learning Lab: Running and Training the Medium System Offense – Alan Knipe (Long Beach State Men)
3:45 – 4:45 p.m.
Saturday, Dec. 18
• Learning Lab: Beating Giants Part III – Command Performance on the Beach: How to Perform Under Pressure and Build to the Win – Steve Anderson (Beach Olympic Gold Medal Coach)
9 – 10 a.m.
• Learning Lab: Serve Receive with USAV Women's National Team – Tama Miyashiro (USAV Women)
10:15 – 11:15 a.m.
• Learning Lab: Setting, Olympics, Offense, oh my … – Erin Virtue (USAV Women)
11:30 a.m. – 12:30 p.m.
Virtual Convention
Wednesday, Dec. 15
• Virtual Convention Learning Lab: The Many Different Ways Coaches Around the World are Handling the Setter in Rotation 1 – Giovanni Guidetti 
3 – 4 p.m. ET
• Virtual Convention Learning Lab: Blocking – Travis Hudson 
4:15 – 5:15 p.m. ET
Thursday, Dec. 16
• Virtual Convention Learning Lab: Increasing Player Ownership in their Development – Jonathan Newman-Gonchar
12:15 – 1:15 p.m. ET
• Virtual Convention Learning Lab: Passing – Malia Shoji
2:45 – 3:45 p.m. ET
Friday, Dec. 17
• Virtual Convention Learning Lab: Setting – Christy Pfeffenberger
11:45 a.m. – 12:45 p.m. ET
• Virtual Convention Learning Lab: Driving a Winning Team Culture (and avoiding a derailment!) – Bo Hanson
2:15 – 3:15 p.m. ET
Saturday, Dec. 18
• Virtual Convention Learning Lab: Topic TBD – Speaker TBD 
3:15 – 4:15 p.m. ET