Did you ever wish you could spend an hour asking questions and picking the brain of one of the top coaches in our sport? The 2023 AVCA Convention schedule boasts several small group learning opportunities where you can do just that! All small group sessions are limited to 30 coaches to create the most intimate learning environment possible. Invitations to sign up in advance will be sent out to registrants after the November 3 Registration Deadline.
Check out all the small group options and click to see schedules and signup information:

Learning Labs are small group education sessions led by some of the top coaches in volleyball that allow participants to ask directed questions and dig deeper into a specific topic. Learning Labs are designed to be informal discussions between the topic expert and attendees to share insights, find solutions to problems, and talk shop.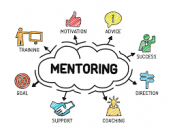 Huddle up! Match Point Mentoring Huddles provide the opportunity for veteran coaches and less experienced coaches to meet in small groups and share ideas for personal and professional growth. Each one-hour Huddle will offer mentees the chance to visit with three different veteran coaches for 20-minutes each to gain insight and learn about the sport from multiple perspectives.
Discuss, debate, and learn from each other during Book Club sessions at the convention. Check the convention schedule for specific book titles that will be discussed and come prepared to share your perspective and consider different views. Each session will have either the book author or a leader to help facilitate the discussion.
Coaching Camps provide an opportunity for small group discussion and learning where no question is off limits!