Match Point Mentoring Huddles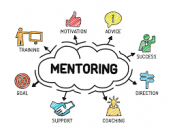 Huddle up! Match Point Mentoring Huddles provide the opportunity for veteran coaches and less experienced coaches to meet in small groups and share ideas for personal and professional growth. Each one-hour Huddle will offer mentees the chance to visit with three different veteran coaches for 20-minutes each to gain insight and learn about the sport from multiple perspectives.
Sign-ups for Mentoring Huddles will be on a first-come, first-served basis. Those registered for the convention by the November 3rd deadline will receive an e-mail with a sign-up link.  Please note AVCA can take a maximum of (30) coaches per Mentoring Huddle.
Coaches must sign-up in advance in order to keep the Mentoring Huddles to a limited capacity and maintain the small group format. Please contact Allison Ivetic for more information.
The sign-up link for Mentoring Huddles will be posted here in early December if session openings remain after the link is sent out to those registered by November 3.
Please see the schedule below for Mentoring Huddles during the convention:
Thursday, Dec. 14
• Mentoring Huddle: Mentors TBD
11 a.m. – noon
• Mentoring Huddle: Kathy Kennedy, Maggie Griffin & TBD (presented by JVA)
4 – 5 p.m.
Friday, Dec. 15
• Mentoring Huddle: Mentors TBD
1:15 – 2:15 p.m.
• Mentoring Huddle: Mentors TBD
3:45 – 4:45 p.m.
Saturday, Dec. 16
• Mentoring Huddle: Mentors TBD
10:15 – 11:15 a.m.